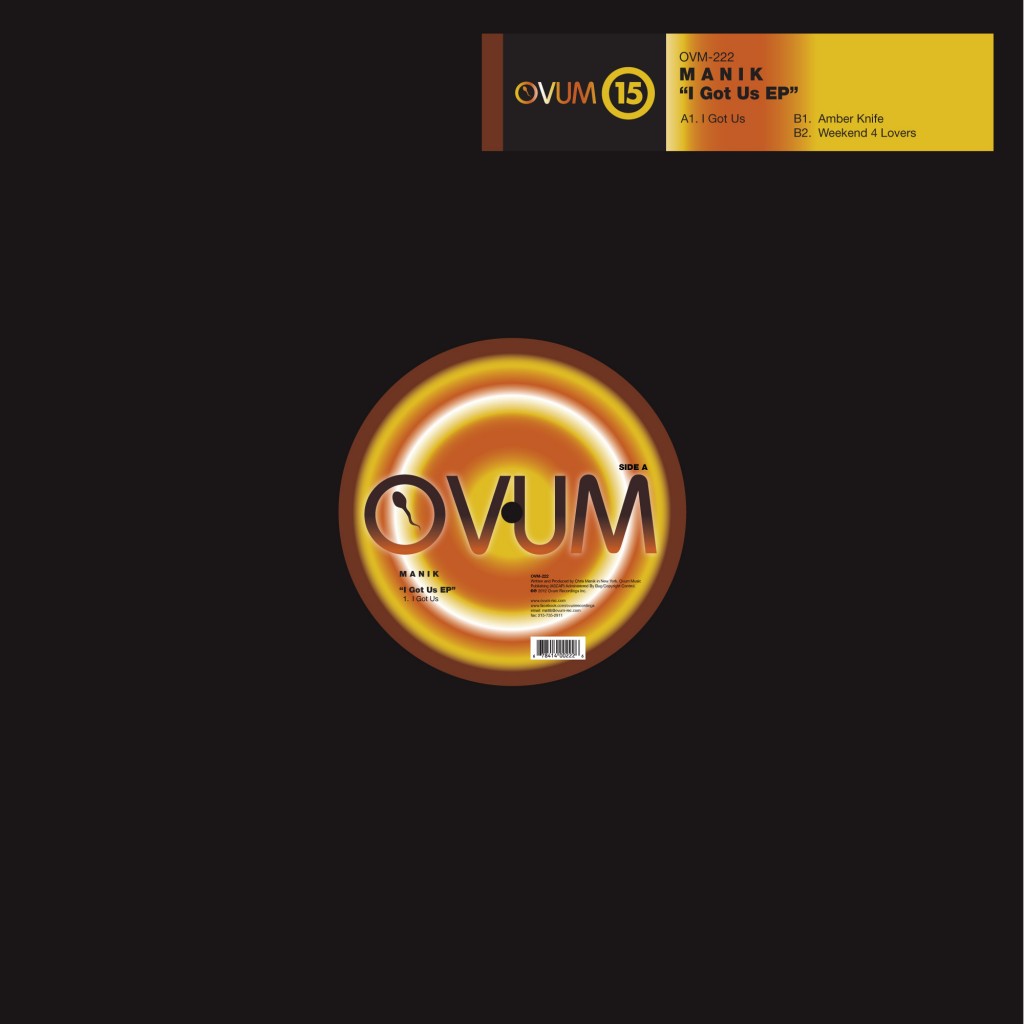 It's strange to think that it was only 2010 that saw the first records from Christopher Manik, aka M A N I K. Since exploding onto the scene with his debut Ovum release he has gone on to develop and strengthen his own sounds & styles. The young New Yorker has confidently and creatively placed his music on a variety of the hottest labels of today, while always managing to maintain his own unique identity.
Today he returns to Ovum with an ode to his beloved former studio, 'Im Nice Like That', and presents a trio of new cuts, two of which were the very last productions to come out of his musical bunker. "The title track "I Got Us" is sort of a love song trapped inside a sleazier beat," says Chris, as he also owns up to having provided the vocals on the track.
"Amber Knife" comes heavy with its FM bass and 303 action before "Weekend Is 4 Lovers" rounds out the ep. "That was actually the last ever track that i wrote in the studio. I wrote the lyrics and sang on this again too. Its a song about falling for a girl whilst on a weekend away…" A fitting final hurrah for the studio and yet another impressive release from both M A N I K and Ovum recordings.
 Ralph Lawson – "This is a GREAT release! Really feeling the whole EP. Maximum support from me."
Jimpster – "The sound of now with all those big old fruity basslines! I like all three tracks. Nice one!"
Laura Jones – "GREAT work again from Chris. Great EP! Playing!"
Jaymo – (BBC Radio 1) – "MANIK keeps on killing it! LOVE I Got Us."
Daniel (Trickski) – "MANIK is always dope!! Love Amber Knife! Thanks for sending guys!"
Justin Martin – "I am in LOVE with Amber Knife!! Great track Chris! J"
Nico Lahs – "Great release as always! "Amber Knife" is the one for me! Ovum and Chris are definitely on fire. Big UP!"
Deetron – "I Got Us sounds perfect for the upcoming season!! Lush and bright!"
You can get the EP release on BEATPORT!!
iTUNES  / AMAZON  / STOMPY  / TRAXSOURCE / JUNODOWNLOAD  / WHATPEOPLEPLAY