Ovum Meets Poker Flat" @ Chicago Social Club, Amsterdam 10/21
Ovum at Space, Ibiza 9/27/2011


tickets available at: http://www.clubtickets.com/es/2011-09/27/ovum-space-ibiza
09/27/2011: Ovum On The Terrace
Details : Space Beach Club, Playa Den Bossa, Apdo 132-07817, Ibiza, Spain
09/10/2011: Ovum @ Komplex 457, Zurich
Details : Komplex 457, Hohlstrasse 457, Zurich, 8048, Switzerland
08/26/2011: Ovum @ Showcase, Paris
Details : Showcase, Pont Alexandre Iii, Port Des Champs Elysees - Rive Droite, Paris, 75008, France
08/06/2011: Josh Wink Presents Ovum @ Dance Valley
Details : Velsen Valley, Spaarnwoude Recreational Area, Spaarnwoude, Holland
Lineup:
Josh Wink
Steve Bug
DJ Sneak
Shlomi Aber
KiNK Live
M A N I K
Benny Rodrigues
Lineup Confirmed! Get your tickets for the 15th Annual Ovum Party in Miami, March 24, 2011 at Shine @ The Shelborne Hotel.  Click links below to purchase tickets.
http://www.wantickets.com/affiliates/EventDetail.aspx?id=619&e_id=150226
http://www.residentadvisor.net/event.aspx?223503
Info:Date: Thursday March 24, 2011, Shine @ Shelborne South Beach Resort 1801 Collins Avenue South Beach, FL
Lineup: Main Room: Josh Wink vs Steve Bug, Nic Fanciulli vs Gregor Tresher, Davide Squillace vs Luca Bacchetti, Special Guest Shlomi Aber
Room Two: Ovum Vs Culprit Side Showcase ,MANIK, Burnski, Droog, jozif
Drumcode Meets 15 Years of Ovum at Amsterdam Dance Event
October 20, 2010 - 11:00pm-7:00am
Club AIR, Amstelstraat 12, Amsterdam, Netherlands
Electronation's opening event will be at Amsterdam's newest and hottest venue: AIR! At this amazing party two of techno's leading labels will meet for a legendary collaboration: Drumcode meets 15 years of OVUM! Drumcode, was founded in 1996 and has defined its sound with a high quality output of solid techno. Similar to Drumcode, Josh Wink's OVUM Recordings, has been a pivotal force in the edm scene since its founding in 1990. This Philadelphia based imprint has countless classics in its catalogue from the biggest names of the industry. Wink remains one of the leading figures of the genre and has been an international powerhouse since the early nineties, after releasing classics such as Don't Laugh, Higher State of Consciousness and contemporary work such as his last album When A Banana Was Just A Banana.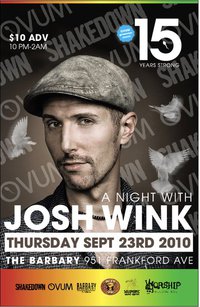 15 Years of Ovum - A Night With Josh Wink
September 23, 2010 - 10:00pm
The Barbary, 95 Frankford Avenue, Philadelphia
Josh Wink returns to Philadelphia and the Barbary after a massive global tour in celebration of Ovum's Fifteenth Anniversary. Wink will be on the decks all night so it should certainly be a night to remember. Hope to see all of you there.