Archive for the ' Ovum Release ' Category
Nov 29, 2017 Event, Mathias Kaden, Ovum Release
Jan 21, 2014 Ovum Release, Winter Warmer
Jul 26, 2013 Nacho Marco, Ovum Release, Reviews/Awards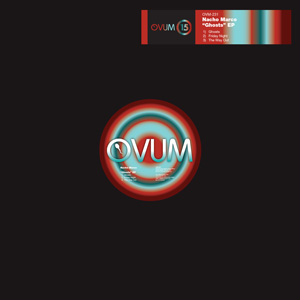 Nacho Marco - GHOSTS EP
1. GHOSTS
2. FRIDAY NIGHT
3. THE WAY OUT
OUT NOW DIGITALLY AT BEATPORT
Nacho Marco debuts on Ovum with his GHOSTS EP
Nacho Marco is one of the most respected dj/producer in the Spanish electronic music scene. Having started djing at the age of 15, Nacho now has over 20 years of experience in dance music.
1999 saw Nacho's first recording for labels such as Alola, Future Groove, and Shinichi and 2007 he launched his own label, Loudeast Records, with collaborations with The Time Writer, Terry Lee Brown JR, and more.  Since it inception the label has worked with artists such as Fred Everything, KiNK, and Mark Broom. Nacho has also branched out with releases on OM, Freerange, Plastic City and Pacha.
For his Ovum debut Nacho delivers a very diverse three track EP that is a perfect Summer fit.  The EP opens with the bubbling Acid tones of title track "Ghosts" before showcasing Nacho's diversity by plunging us into the gorgeously deep "Friday Night". He closes out the release with the groovin' and delicious house cut, "The Way Out".  Let the music play!
HUGE SUPPORT FROM Josh Wink, Joris Voorn, James Zabiela, Soul Clap, Satoshie Tomie, KiNK, D'julz, Marcus Worgul, Lovebrids, Fred Everything, Luca Bacchetti, Luke Solomon, MANIK, Karizma, Danny Daze, Adam Port, Funk D'Void, Zdar, Kiki, Sasse, and so many more!!!
KiNK – "There is too much music, inspired by the past right now, including some of my works, but when the music is right, we have to remain silent and listen! Great record by Nacho Marco, we can hear influences, but what is more obvious is his good taste of music and wicked production skills."
Soul Clap – "Friday Night… lovely deeeeep aciiiiid!!"
Joris Voorn – "Friday Night sounds like 90's Evolution Records, which is a good thing!"
Sebo K – "Ok, I'm a man of few words, but this is a cool ep from Nacho! Ghosts and The Way Out will get played!"
James Zabiela – "Ghosts is an AWESOME record!! "
Luke Solomon – "Great EP, Great Producer. Love this release!!"
Marcus Worgull – "Ghosts is the one!! Nice oldschool track for my sets."
Luca Bacchetti – "Ghosts is so powerful! So Ovum! Friday NIght and The Way Out explore a different world, liking their deepness, such a beautiful journey. Def a great EP! Bravo Nacho!"
Rainer Trueby – "Friday Night.. YES! I feeeel this…"
Karizma – "Totally in love with The Way Out!!"
Manik – "Ghosts is sick! Love it! Friday Night is dope too!"
Danny Daze – "Sick… SO SICK!!! Ghosts my pick."
Lovebirds (Basti) – "Great production as always from Nacho J Friday Night the fav for me."
Till von Sein – "Another winner from Ovum. Dig all 3 trax.. The Way Out and Ghosts will get the plays and Friday Night is the one for "those kinda moments".. wow!!!"
Funk D'Void – "Fucking surprised….and amazed! Thank you Nacho!"
Zdar (Cassius) – "I LOVE The Way Out… a great record!"
Jul 11, 2013 Ovum Release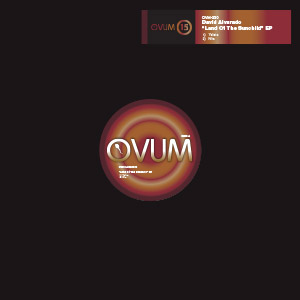 American born and Los Angeles bred DJ, producer, and artist David Alvarado continues a career that has spanned over 15 years, and is still considered to be one of electronic music's best kept secrets. He is best known for his work on some of the worlds most respected imprints such as Ovum, Ultra, Peacefrog, Yoshitoshi, Plastic City, Strictly Rhythm, and Guidance, along with his early work on his own label Bomb Records.
David began his career as a DJ running a renegade sound system and deejaying underground parties around the Los Angeles area. He quickly made an impact on the American electronic music scene with his unique style and signature music selection. His work as a producer and artist began to take root after a chance meeting with the legendary Plus 8 duo, Richie Hawtin and John Acquaviva, who stumbled across one of his very first works and invited him to be a part of their newly formed Definitive Records. From there David forged relationships, and created a body of work that would take him around the world, opening the door to performances at legendary clubs and events such as The Ministry of Sound, The Hacienda, E-Werk, Tresor, Florida 135, Row Club, Panorama Bar, The Arches, Extrema Festival, Sonar.
David returns to Ovum after a 8 year hiatus from releasing on the label. His "Klugh" release still is regarded as one of the seminal tracks on the label and is still played today. David returns with a two track techno workout that should rock any dance-floor.
HUGE SUPPORT FROM Loco Dice, John Digweed, Adam Beyer, Josh Wink, Paco Osuna, Luca Bacchetti, Shlomi Aber, Carlo Lio, D'julz, Gregor Tresher, Luca Bacchetti, Marc Romboy, Steve Rachmad and so many more!!!
Loco Dice– "DOPE!!!!!!"
Adam Beyer – "Really liking this new release from David. Nice and deep music."
Paco Osuna – "Ysleta is suuuuper nice. Will play for sure. Big support to David J"
Carlo Lio – "This is really dope.. Really feeling Nita here.. Ysleta is great as well.. will be killing this ep!"
Marc Romboy – "Ysleta is totally sick!!! Mad! Krank! Kaputt! Maniac! Love love love it!!!"
Rolando – "David bringing the HEAT!!! both tracks are Dope!!"
Shlomi Aber – "Superb Ep from David!! Ysleta is the pick here for me."
Funk D'Void – "Welcome back David! Two trademark Alvarado grooves, still sounding unique after all these years. Working well for me."
Layo – "Always loved David's music, Ysleta is slamming!"
Steve Rachmad – "Great release from David!! I've been hammering both tracks for a while now."
Gregor Tresher – "Really like the moody tension on Nita, got a great energy to it. Second track super nice as well! Can't wait to play this tonight. Will be charting in my May top Ten."
Norm Talley – "Solid stuff!! Straight dancefloor material!! Nice! Will support."
Oliver Huntemann – "Wow, haven't heard from Alvarado since ages. Loved his old material much and so I do now again. Fantastic single!"
Rob Da Bank (Radio 1) "Yowser…This is Fuckin Ace!"
Digital:
Beatport.com
Traxsource.com
Vinyl:
Decks.de
Juno.co.uk
Chemical-records.co.uk