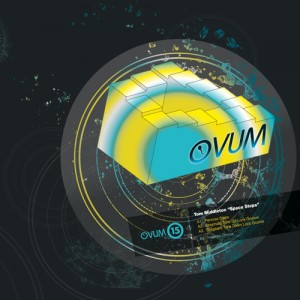 As we head into fall Ovum Recordings keep the hits coming. Having bathed in the deepness of Nico Lahs we were then moved to get sweaty and get down with Technasia's "Bastille Days." Today we come with yet more freshness with the diverse new ep from the legendary Mr. Tom Middleton.
Tom is a true electronic luminary. From his partnership with Mark Pritchard as Reload, Global Communication, Jedi Knights and Secret Ingredients to his own solo work, Tom has always pushed the boundries of dance music whether it be ambient, techno, electro, funk, and house. A true master of his game, we are honored to welcome him as the newest member of the Ovum family.
This new release initially came together off the back of the A side track "Penrose Steps". Tom gave the track to Josh and it instantly became one of the biggest tracks in his sets, never leaving his bag. In true Ovum style, we were keen to bag a B Side with a completely different feel. We went back and forth for quite some time and as Tom set about working on a production we all lost a very dear friend and colleague, Kenny Hawkes. The aptly named "Hawkes Groove" is an amazing ode to a truly talented producer and DJ and we are so happy to be bringing it to you.
Proceeds from this release will go to http://www.justgiving.com/kennyhawkes
*Note – The Vinyl release also features Tom's "Shephard Tone Up / Down" Lock Grooves
Huge support from Richie Hawtin, Carl Cox, Josh Wink, John Digweed, Joris Voorn, Damian Lazarus, Jimpster, D'julz, and so many more!
Tom Middleton "Penrose Steps"
1) Penrose Steps
2) Hawkes Groove
DIGITAL EXCLUSIVE AT BEATPORT: http://www.beatport.com/release/penrose-steps/979644
VINYL:
DEEJAY.DE 
JUNO
CLONE 
CHEMICAL RECORDS 
DECKS